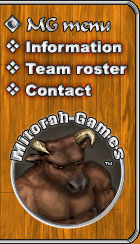 Site map
Privacy Policy
Terms of Use

Battles of Norghan
is a turn-based
fantasy strategy game
by Mitorah Games.

All content in this site
is ©2005 - 2017
battlesofnorghan.com.
Recommended links


This is the website of Mitorah Games. Featuring only the best downloadable strategy games which are easy to get into.
If you are looking for low-cost, yet high quality professionally composed music or sound effects for your game or movie, consider visiting his portfolio-site.
He's been providing high quality audio services for multimedia applications since 1999. He's portfolio is amazing and his rates are reasonable too, so definately consider him if you're looking for audio services.
Ognjen Popovic is a very talented Graphic Artist who also has some programming skills so he also fits to be a Technical Artist. He made the battle unit graphics of Battles of Norghan along with some spell icons.